Cesium Corporate Consulting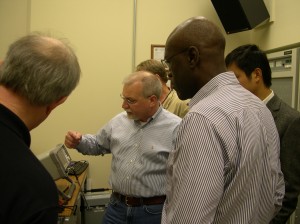 Cesium Communications provides business consulting services through our own Cesium Corporate Consulting division to a select group of; business owners, officers, boards and board members, and top line management staff of privately, or closely held businesses, limited partnerships and corporations. Most often the businesses for which Cesium provides consulting services have a strong technological component, or technological basis, where Cesium's technical and business background, along with Cesium's marketing capabilities are of greatest service. Areas in which we provide primary coverage include; banking, operations, sales, team growth, systems development and implementation, and metrics. Cesium Corporate Consulting may elect to decline potential new clients to avoid real or apparent conflicts of interest. Ask Cesium Corporate Consulting for details on specific product categories and geographic regions.
Cesium Corporate Consulting was formed to assist business owners and corporate leadership on a confidential basis to achieve success in all divisions of the company. Whether assistance is needed to develop financial investment portfolios or to restructure administrative positioning or to achieve short term and long term goals to increase sales, Cesium Corporate Consulting has systems and methodologies in place. Beginning with a personal as well as a company Succession Plan, the course followed will take into consideration today's business complexities, unique personality traits of the leadership, management style, and entrepreneurial spirit. The personal as well as the business Succession Plan is designed and implemented to effectively control the direction, progression, line and order of the succession of the company. So, whether the company is "growth to profit" oriented or "growth to sell" directed, Cesium Corporate Consulting has decades of experience to establish and obtain company goals.
While many areas require a one-on-one approach, Cesium Corporate Consulting offers uniquely designed one-day seminars for corporate staff as well. Areas of expertise and training are represented below.
Marketing
Advertising
Branding
New Product Development
Product Diversification
Surveys and Data Mining
Customer Loyalty Programs
Banking and Finance
Acquisitions and Mergers
Succession Plans
Long Term Income Streams
Expansion
Increased Profits
Increased Sales
Cost Reductions
One-on-one Consulting
Corporate Staff Seminars
Senior Staff Replacement
Confidential Sale of Company
Due to the proprietary nature and the level at which these consulting services are offered, a Client list  is not provided on this site.